The Ultimate Guide To Choosing The Perfect Nude Lipstick
Choosing the perfect nude lipstick can be soooo challenging, right ladies? Either it's too pink, too yellow, too dark, too pale. Never seem to match. If you went shopping for nude lipstick, you've probably came across a whole range of them, picked the cutest one and then shock – Either you've ended up looking like the living dead, or like you're channeling your inner 90's girl (without hair clickers hopefully). The most common mistake in choosing the right nude colour is not matching it to you lips and your skin tone.
Choosing a shade will depend on how light or how deep your skin tone is. Just like lipstick, your skin also has an underlying tone that comes from within your skin. It can either make your skin tone warm or cool.
Warm undertones have yellow and green tint to the skin, while cool undertones have pink, redish and blue tinge to it. Even though green is considered to be the coldest color, in makeup artistry , yellow -green undertones are considered warm. Also, red can be both cool and warm. If red has blue undertone, it is considered cold, if it has golden yellow undertone, it's considered warm.
The general rule is to go with a shade slightly darker or lighter than your skintone. Choosing the exact same colour as your skin can result in looking a bit washed out.
Understanding colors and undertones can be challenging if you're not a makeup artist, so I've prepared couple of examples of different skintones on celebrities and different lipsticks that match their skin tone.
---
Warm Skin Tones
The skin tone that has a yellow or golden – olive under tone to it. People with this skin tone tan easily, look great with golden jewelry and warm undertone lipstick. Perfect examples are Kim Kardashian, Rita Ora, Jennifer Lopez, Beyonce.
Kim Kardashian
Rita Ora
J.Lo
Beyonce
---
Cool Undertones
The skin tone has blueish or pink tinge to it. People with this skin tone often get sun burned, look great with silver jewelry and cold undertone lipstick. Perfect examples are: Cate Blanchett, Anne Hathaway, Amanda Seyfried, Mindy Kaling , Lupita Nyong'o.
Cate Blanchett
Anne Hathaway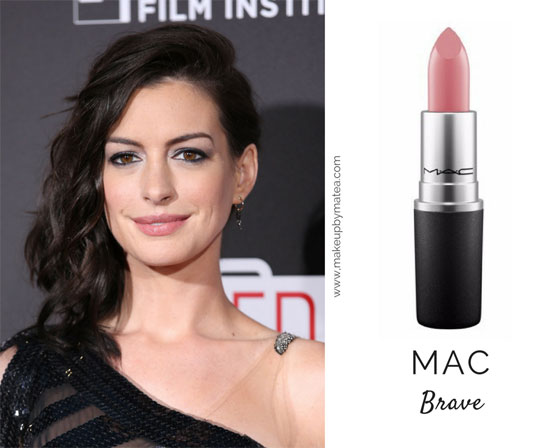 Mindy Kaling
Lupita Nyong'o
If you're lucky enough to be neutral, then you can rock both cool and warm undertone lipsticks and jewelry! PRO TIP: Make sure your entire makeup is "in the tone". Decide on the undertone you're going for and then adjust the shades you're going to use accordingly. For example: If you want to wear dusty rose nude lipstick, don't match it with peachy cheeks and vice versa. :)
I hope this article helped you in choosing your right shade. Thank you for reading and feel free to like, share and comment. Stay kind and beautiful.